Bodypaint Kit Workshop
CLASS DESCRIPTION:
Get an insider's perspective on the industry-standard brands and products that professional body painters keep in their bodypaint kits.
During this 45 minute course, Anja will show you everything in a professional body paint kit and explain how to use it. 
In this face and bodypaint kit class you'll learn about:
Additional equipment and tools that are useful on the job

Airbrushes, compressors, and extra equipment

Cosmetic glitter and metallic pigments

Glues, sealants, and powders that are helpful to have

How to pack a body paint kit

Paint brushes and sponges

Pasties, thongs, and coverings for body paint models

Water-based and alcohol-based body paints
SKILL LEVEL: ALL
PDF DOWNLOADS:
You'll receive a printable PDF file of the following:
List of products, tools, and equipment covered in this class, including:
Links for where to buy items
PRODUCTS: Anja will share with you which particular products she loves and why. You will get introduced to a variety of professional-grade brands as Ben Nye, Cameleon, Hybrid, Iwata, Mehron, Paasche, Proaiir, Wolfe and many more.
DURATION: 45 minutes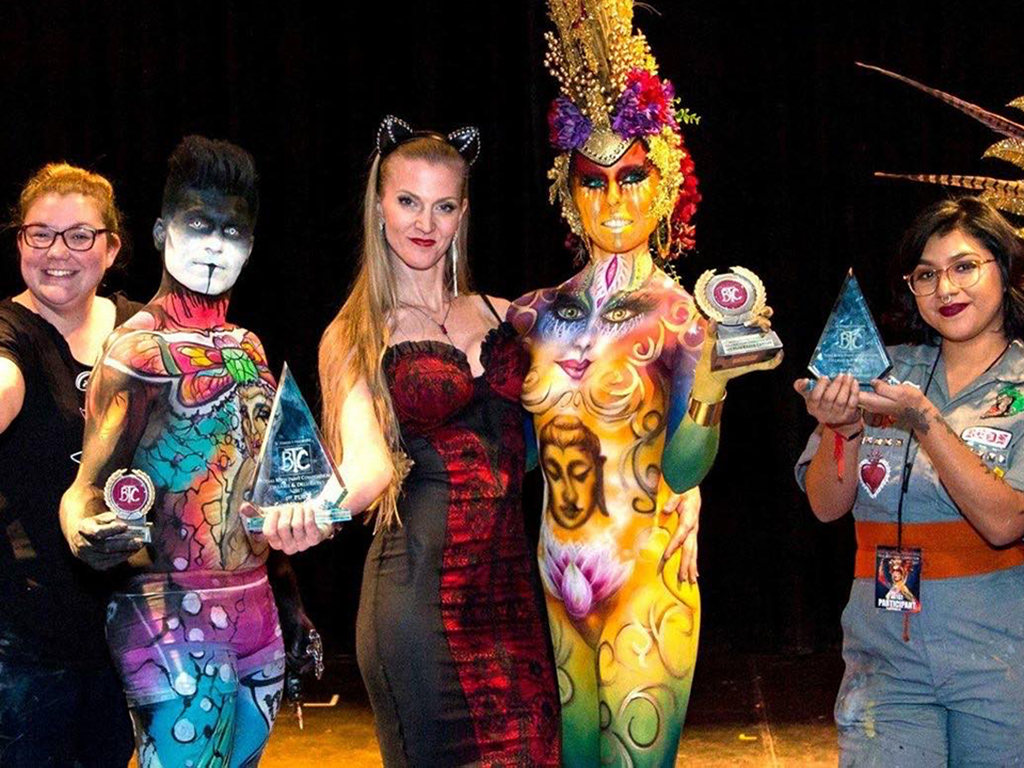 Hi, I'm Anja!

I'm an artist dedicated to bringing color and sparkle to everyday life with my custom work.
Through beauty makeup, body paint, and headdresses, I find joy in helping others feel beautiful and confident. 
My fine art paintings are tuned to the positive energy in a space and are designed to enhance a room with the right colors.
As your art mentor and instructor, I'm here to help you succeed.
Behind-The-Scenes Painting a Glitter Bodypaint Jumpsuit